SuperMig-350 WF-202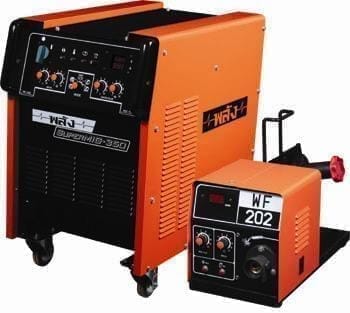 "SuperMIG-SERIES" power source is designed for MIG/MAG welding on mild steel, stainless steel and non-ferrous materials in various applications.

The output characteristics are at constant voltage with electronic technology for professional use.

Digital speed control is extremely easy to adjust the proper wire feed speed with the reading display.

Thanks to the active interaction of the microprocessor, features as 2/4 time, spot and interval welding.

Superior "CRATER" mode to increase the quantity of welding result by adjusting initial / welding / crater-filled welding current so called 3 levels of welding current.

Pre-and Post-gas, creep start and burnback help the operator in obtaining the best parameters.

2-roller and 4-roller gear motors are available to meet the different type of wire.

Easily change a mew roll of welding wire with "wire inching" button.

Gas test button for checking the presence of shielding gas.

The real-time digital volt-amp meter can read out real time values of welding current and voltage for quality control on welding process.

Different inductance outlets for optimized welding performance.

Easy displacement with swivel casters and wheels.

The forced-air cooling system by fan.

Thermal overload protection adds to the durability of this machine.
{{spec}}
| Specification | Value |
| --- | --- |
| Input Voltage (V) | 380 |
| Input Power (kW/kVA) | 16.9 |
| Current Range (A) | 30-350 |
| Duty Cycle (%) | 60 |
| No-Load Voltage (V) | 15.5-51 |
| Wire Size (mm) | MS/SS 0.6-1.6 AL 0.8-1.6 |
| Dimension (W x D x H) (Cm) | 46.5x101x75(126) |
| Weight (Kg) | 152(170) |
| Standard Accessories | MK-353-35 |