PA-300AD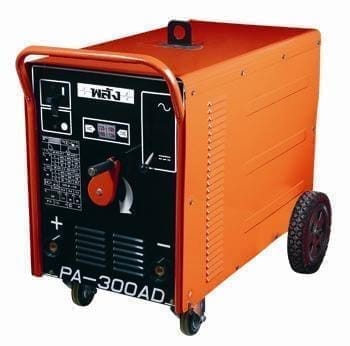 "PLANG" power source is designed for the stick welding process both in the AC and DC suitable for most welding applications such as steel, stainless steel and aluminium.
The transformer is made of aluminum winding with full wave rectifier. The output current is steplessly controlled by a magnetic shunt to ensure the stable arc during the operation. Easily connect the output terminals by twist-lock female and male connectors and easy displacement with wheel and handle.
The forced-air cooling system by fan, overload protection (optional) and special internal insulation features add to the durability of this machine.
{{spec}}
| Specification | Value |
| --- | --- |
| Input Voltage (V) | 220 |
| Input Power (kW/kVA) | 13/24.5 |
| Current Range (A) | AC 40-300 DC 35-250 |
| Duty Cycle (%) | 40% AC 300 DC 250 |
| Duty Cycle (%) | 100% AC 190 DC 160 |
| No-Load Voltage (V) | 80 |
| Electrode Dai.for Whole Day Welding (mm) | 4.0 |
| Electrode Diameter (mm) | 2.0-6.0 |
| Dimension (W x D x H) (Cm) | 50x75x72 |
| Weight (Kg) | 111 |