DP-500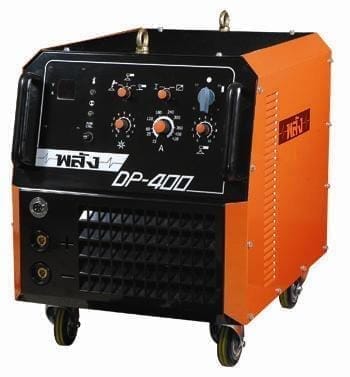 "DP-Series" three phase power source with thyristor control.Suitable for MMA, TIG welding and Air Carbon Arc Gouging processes in Direct Current for superb welding operations on Steel,Stainless Steel,Aluminium etc.
Welding current is electrically adjusted to assure excellent stable arc for high quality welds.
Lift Start are designed to initialize the arc in TIG welding process.
Applicable to work in Air Carbon Arc Gouging process.
Special features are designed with:

Hot start - for easily starting welding current.
Arc force - for easily control the arc.
Anti-Stick - cut down the welding current to minimum when the electrode is stuck to the workpiece for safety.

The forced-air cooling system,thermal overload protection and special insulation strengthens the quality and the robustness of the machine.
{{spec}}
| Specification | Value |
| --- | --- |
| Input Voltage (V) | 380 |
| Input Power (kW/kVA) | 27.5/39 |
| Current Range (A) | 15-500 |
| Duty Cycle (%) | 60 |
| No-Load Voltage (V) | 80 |
| Electrode Dai.for Whole Day Welding (mm) | 6.0 |
| Dai.for Whole Day Gouging (mm) | 8.0G |
| Dimension (W x D x H) (Cm) | 55x75x74.5 |
| Weight (Kg) | 215 |