MIGHTY-350 WFS-200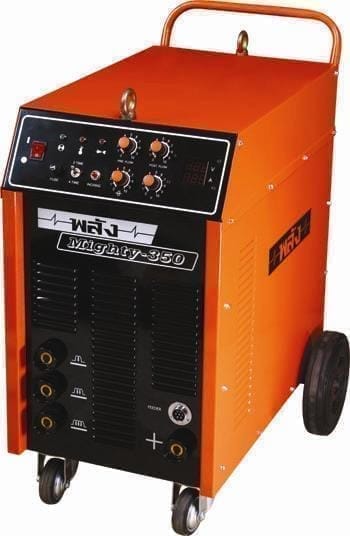 "Mighty-350 series" power source is designed for arc spray on mild steel,stainless steel, non-ferrous materials and alloys in various applications.
Applicable for material coating,rebuilding the worn out surface,anti-corrosion,mold repair and decoration
The voltage of arc spray is controlled by electrical technology for professional use.
Digital speed control is extremely easy to adjust the proper wire feed speed with the reading display.
Thanks to the active interaction of the microprocessor,features as 2/4 times,Soft start,pre-and post-air flow help the operator in obtaining the best parameters.
Twin 4-roller gear motors is available to meet the different type of wire.
Easily change a new roll of wire with "wire inching" button.
Air test button for checking the presence of compressed air.
The real-time digital volt-amp meter can read out real time values for spraying current and voltage for quality control on smooth surface.
Different inductance outlets for optimized spraying performance.
Easy displacement with wheels.
A hanger is added to hold the gun and cable/hose assembly.
The forced-air cooling system by fan.
Thermal overload protection adds to the durability of this machine.
The system works together with Metal Spray Wire Feeder (WFS-200) and Metal Spray Gun (GS-2)
{{spec}}
| Specification | Value |
| --- | --- |
| Input Voltage (V) | 380 |
| Input Power (kW/kVA) | 17 |
| Current Range (A) | 30-350 |
| Duty Cycle (%) | 60% 350 100% 275 |
| No-Load Voltage (V) | 15.5-51 |
| Dimension (W x D x H) (Cm) | 51.5x74x80 |
| Weight (Kg) | 135 |
| Standard Accessories | MSK-40-25 |